Data breaches, identity theft, online and phone scams are a reality in our lives today. Never reveal sensitive financial information to a person or business you don't know, whether they reach out to you via phone or text.
Please be aware that the International Institute of Physics, IIP, does not request payment information of any kind. Scammers sometimes approach participants claiming to be able to provide accommodation and asking for credit card information. Please do not give any information away. IIP will be in touch via official email regarding accommodation and financial support for qualified applicants. If you have any questions, please contact IIP events department at events@iip.ufrn.br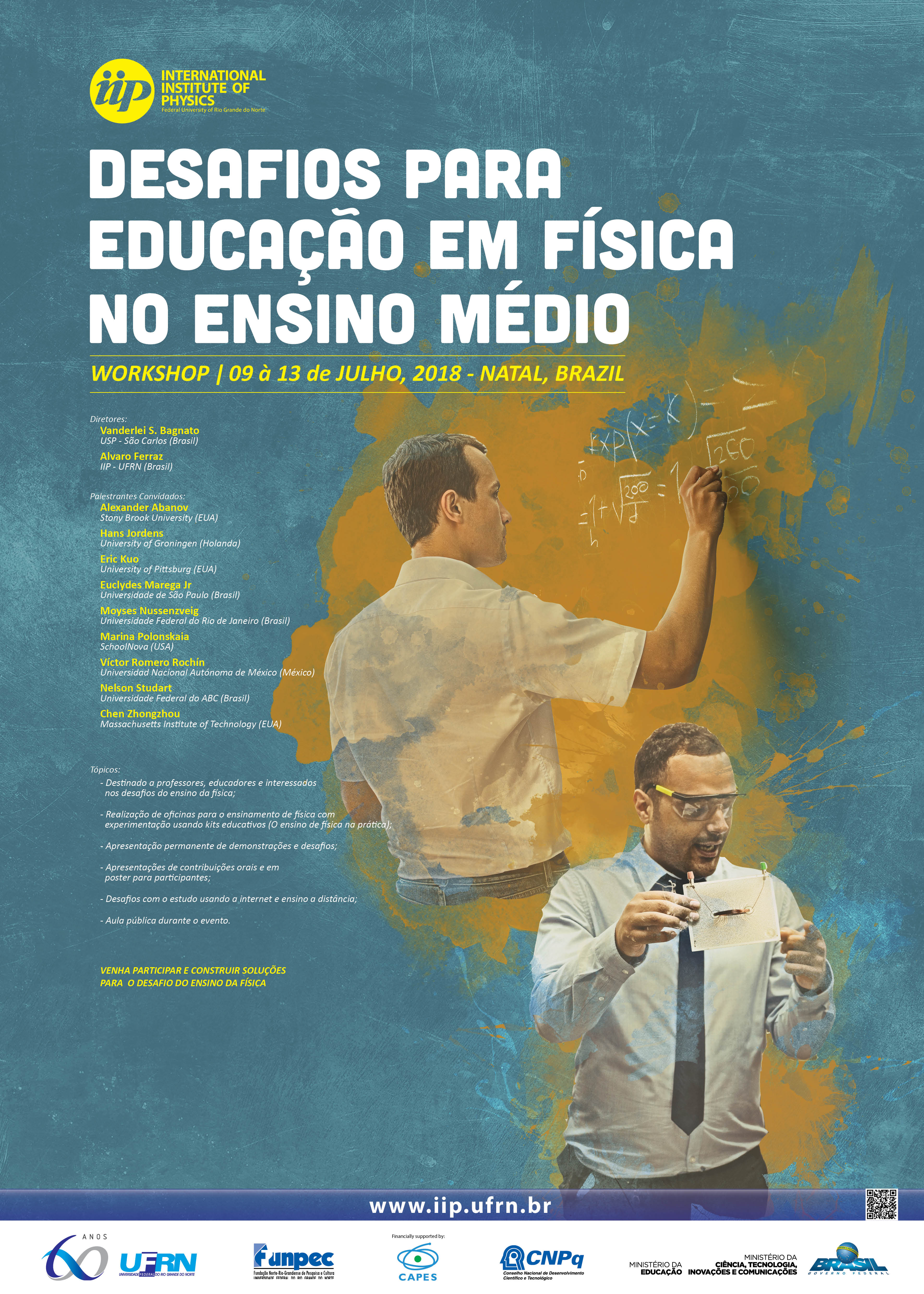 Challenges for Education in Physics in High School
Workshop | Monday, July 09, 2018 - Friday, July 13, 2018
Directors:

OVERVIEW:
The prosperity and well-being of a country's population in the world today depend heavily on its technological performance and capacity for innovation. Brazilian scientific production has been growing at an accelerated pace. We are reaping the fruits of the postgraduate institutionalization promoted by the National bank BNDES (National Bank for Economic and Social Development) from the 60's through the non-repayable investments made by Governmental program FUNTEC (The Technology Fund) and then by Federal agency FINEP( Funding Authority for Studies and Projects). However, the conversion of the knowledge thus generated into patents, technological advancements and innovative products continues to face serious obstacles, especially in human resources training. One of the most serious aspects is the poor quality of science education in high school. It is evidenced in an objective and unequivocal way by the OCDE's (Organization for Economic Co- operation and Development) PISA (International Student Assessment Program), which evaluates the performance of 15-year-olds in written comprehension, math, and science. In the most recent evaluation, in a list of 65 countries, Brazil figures in the last ten.
According to PISA, "In today's technology-based societies, the understanding of fundamental scientific theories and concepts and the capacity to structure and solve scientific problems are more important than at any other time."
Our deflections hinder both the motivation and the preparation of new generations of scientists and engineers. The availability of a working force capable of giving support to a technological state-of-the-art innovation-based industry. In a broader sense, they affect the degree of consciousness of all citizens in making day- to-day decisions more dependent on the understanding of technological advances. Education in Physics in high school in Brazil is generally taught by unprepared, discredited and overburdened teachers. It is book based, with no experimental basis and disconnected from daily practice. Diagrams and formulas in books or computer screens, are seen by students as abstract entities, which must be memorized because they are required in the exams, but are unrelated to any connections with the real world. Improving this situation is the priority and most urgent task. Meritorious initiatives to broaden and improve teacher training, which is a good way to recycle the existing ones, are already underway, but on a necessarily slow time scale. Until its effects are felt, we have already widened our backwardness and lost many young talented people.
TOPICS TO BE DISCUSSED:
The challenges of teaching with experimentation

Teaching with videos and use of interact

Extra curriculum education

Teaching of Mathematics

Teachings of the frontiers of physics
REGISTRATION FOR THIS EVENT IS NOW CLOSED.
For more information, please contact our events department at: events@iip.ufrn.br