Data breaches, identity theft, online and phone scams are a reality in our lives today. Never reveal sensitive financial information to a person or business you don't know, whether they reach out to you via phone or text.
Please be aware that the International Institute of Physics, IIP, does not request payment information of any kind. Scammers sometimes approach participants claiming to be able to provide accommodation and asking for credit card information. Please do not give any information away. IIP will be in touch via official email regarding accommodation and financial support for qualified applicants. If you have any questions, please contact IIP events department at events@iip.ufrn.br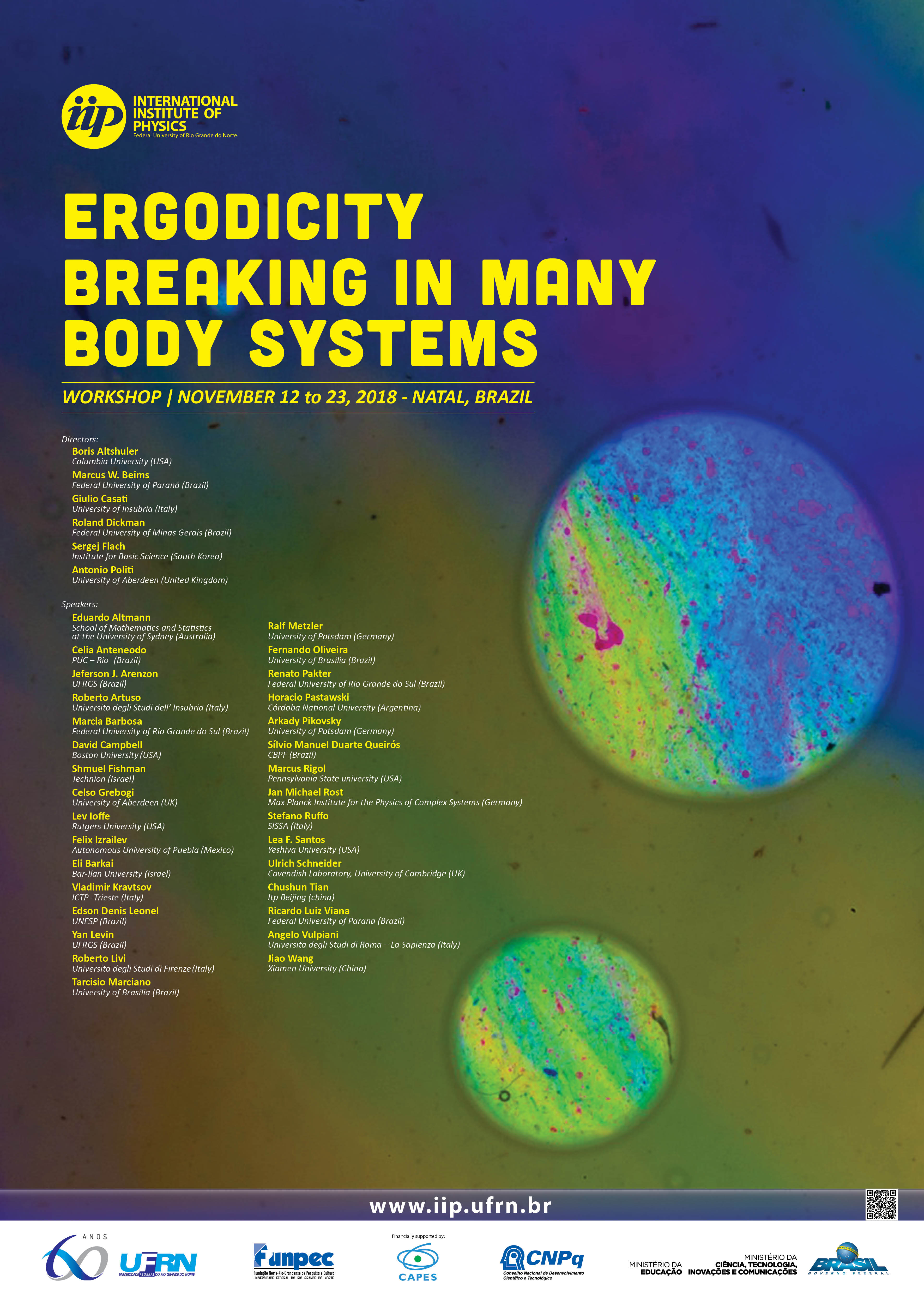 Ergodicity Breaking in Many Body Systems
Workshop | Monday, November 12, 2018 - Friday, November 23, 2018
Directors:

OVERVIEW:
The conference focuses on the lack of ergodicity observed in many physical systems, be they classical or quantum. In the recent years, evidence has indeed progressively accumulated that the evolution of certain systems may remain localized within restricted areas of the phase space, thereby giving rise to nontrivial phenomena.
Ergodicity breaking need not to extend to infinite time scales for it being physically relevant: it can manifest itself as metastable or quasi-stationary states. Glasses represent the most famous setup where lack of ergodicity has been recognized to be a key element for the understanding of physical properties. Non-ergodic behavior may, however, be also due to dynamical effects which give rise to an effectively small coupling. Quantum many-body localization is a further, much related, phenomenon, which can be analysed by studying the Bose-Hubbard model and the Gross-Pitaevsky equation.
The goal of this workshop is twofold: (I) bring together researchers working with many-body, deterministic and stochastic, systems to stimulate a cross-fertilization through an exchange of tools and approaches; (II) increase the awareness among the new generations of scientists of the different manifestations of the problem. The conference is designed to be interdisciplinary, as we bring together leading experts, both experimentalists and theorists.
Main topics to be discussed:
Ergodicity;

Metastability;

Quantum many-body localization.




REGISTRATION
In order to assist the organizing staff to timely issue invitation and visa letters, book accommodation and communicate important information, the prospective participants are kindly asked to register by clicking on the "Register" button at the top of this page.
Registration deadline: October 12, 2018
REGISTRATION FEE
The policy of the International Institute of Physics with respect to organization of events demands collecting a registration fee from the participants. Members of the local community (institutions in Natal) are considered as free listeners and are exempt from paying the fee.
Students = R$ 400 Brazilian reais
Postdocs/Professionals = R$ 800 Brazilian reais
*Registration fee is accepted in cash only.
** Information about lodging will be posted soon.
FINANCIAL SUPPORT
Available for those who qualify for financial help. You may apply for financial support when filling out your registration form (Registration page).
For more information, please contact our events department at: events@iip.ufrn.br
[The International Institute of Physics (Natal-Brazil) informs that we DO NOT make phone calls requesting credit cards numbers or bank information for payments of any kind]