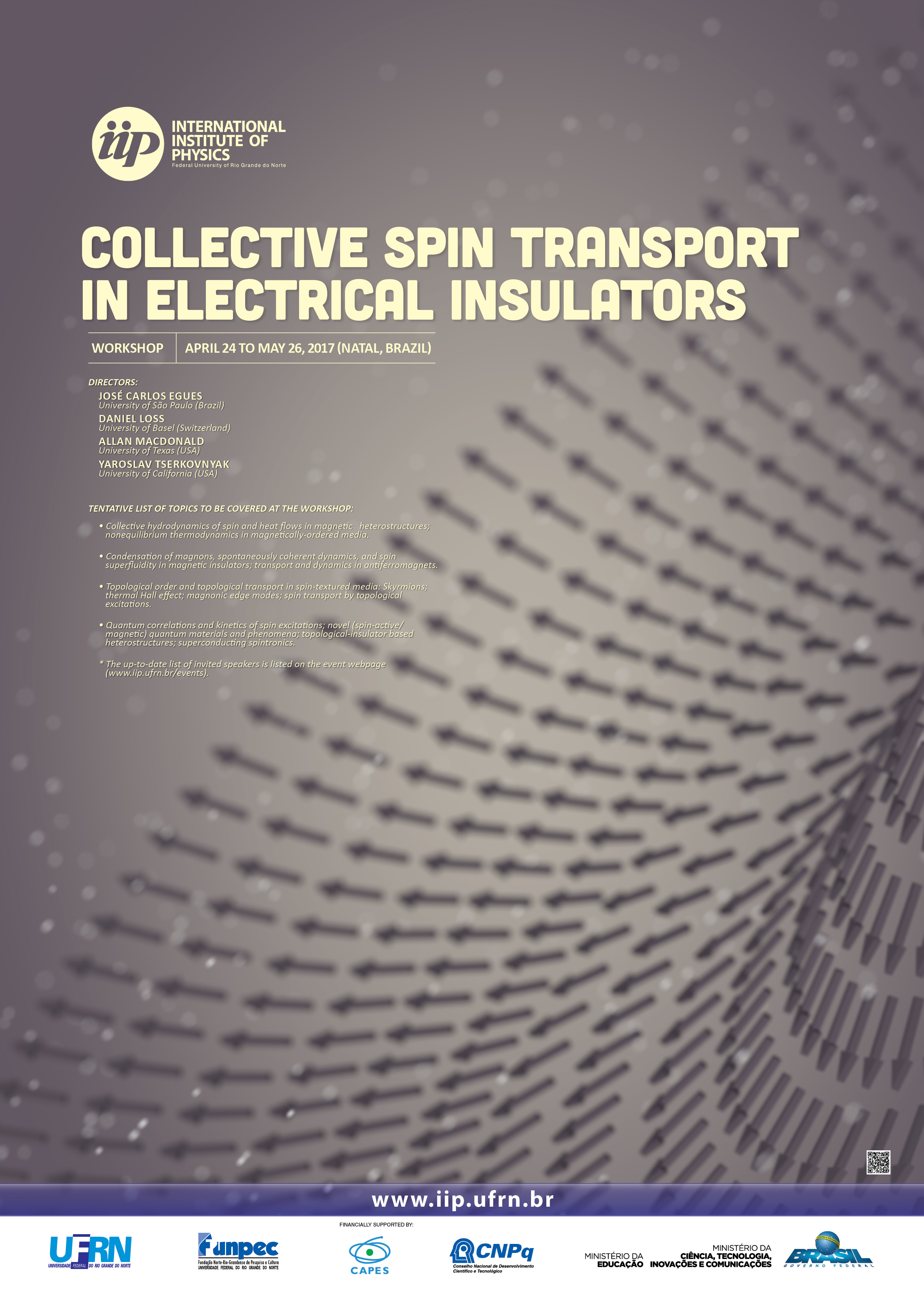 Collective Spin Transport in Electrical Insulators
Workshop | Monday, April 24, 2017 - Friday, May 26, 2017
Directors:

The field of spintronics has in recent years shifted steadily towards insulating materials, with a particular focus on magnetic-insulator-based heterostructures. These systems provide a natural hotbed for studying pure spin transport and dynamic phenomena, devoid of Ohmic currents. While allowing to finally lead the field towards the highly desired low-dissipation regimes, this development opens a range of fundamental questions that we used to structure our program. Central to our program are collective spin transport, bosonic condensation and superfluidity of magnons, topological order and dynamics in magnetic systems, quantum correlations and novel quantum heterostructures for spintronics. While some of these topics have been, to varying degree, addressed theoretically decades ago, the recent experimental progress on spin Hall and spin Seebeck phenomena, pump-probe and other laser-based techniques, magnetic force microscopy, imaging utilizing NV centers in diamond, to name just a few, is stimulating a burgeoning interest in this field. This long-term workshop will be first-of-a-kind, with a goal to rally the community behind the central questions that should guide our efforts in the years to come. This is a very fertile ground for research and particularly suited for researchers (junior and senior) who are considering new directions.
Format:
Our program consists of the following 4 weeks, (plus the 5th week, whose focus is to be determined in the process), each kicked off with an in-depth pedagogical tutorial, an experimental overview by a leading expert, and a focused mini-workshop composed of invited technical talks on Monday/Tuesday.
week 1: Collective hydrodynamics of spin and heat flows in magnetic heterostructures; nonequilibrium thermodynamics in magnetically-ordered media
week 2: Condensation of magnons, spontaneously coherent dynamics, and spin superfluidity in magnetic insulators; transport and dynamics in antiferromagnets
week 3: Topological order and topological transport in spin-textured media: Skyrmions; thermal Hall effect; magnonic edge modes; spin transport by topological excitations
week 4: Quantum correlations and kinetics of spin excitations; novel (spin-active/magnetic) quantum materials and phenomena; topological-insulator based heterostructures; superconducting spintronics
The rest of each week will be fully devoted to informal presentations by the participants, discussions, and collaborations. There should also be several poster sessions during the weeks of workshop. Leading players in these and closely related topics will be invited to participate (a full list of invited speakers will soon be available).
We strongly encourage applications from PhD students, PDs, and researchers in general -- specially those looking for a possible new research direction in the near future.
Registration Fee:
Students = R$400,00 Brazilian reais.
Postdocs/Professionals = R$800,00 Brazilian reais.
Registration fee: All the participants are expected to pay the registration fee. Members of the local community (institutions in Natal) are considered as free listeners and are exempt from paying the fee.
*Registration fee is accepted in cash only.
** Information about lodging will be posted soon.
Financial Support:
Available for those who qualify for financial help. You may apply for financial support when filling out your registration form (Registration page).
For more information, please contact our events department at: events@iip.ufrn.br